All my early attempts at singing were imitations of my father. Later on in life, it was imitations of Ray Charles, Otis Redding, Wilson Pickett, James Brown and just about any male R&B artist of the 60s.


->
Because I seemed to have some musical capabilities, I spent my grade school years fighting with my mother over one basic issue. She thought that I should grow up to be the next Van Cliburn at a time in my life when, more than anything, I wanted to be the next Mickey Mantle.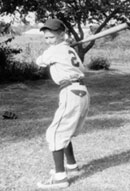 At about the age of 17, I was with some high school friends driving back from Columbus, Mississippi where, bythe way, you could buy beer as long as you were tall enough to see over the counter. As we were rolling along we started singing loudly in the car.